Affiliate Spotlight: Biblio.com
We've decided to start a new series of articles to make all our readers aware of some of our affiliates and the products and services they provide. Since we just partnered with a new affiliate, Biblio.com, they seem a very logical choice for the first in this series. Not only do we agree with their founding principle of a "love of books, and a desire to give local bookstores global reach" but we think many of our readers will like a site that caters to book collectors.
This post contains affiliate links (obviously, but we have to follow the rules). Use of these links means a small portion of your purchase price comes to Bible Buying Guide (without raising your cost).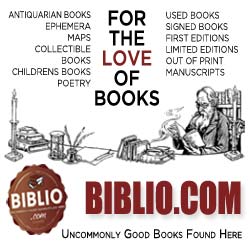 Biblio isn't a single bookstore but a means for you to connect with thousands of smaller booksellers from 45 different countries around the globe. This centralized website makes it easy for you to find what you are looking for and possibly connect with a new favorite bookstore.
It won't take you long browsing the site to realize they specialize in used and collectible books but there are new books and Bibles listed through them as well. We linked to them for new copies in a few of our recent reviews.
Searching
A search box where you can search by title, author, or keywords/ISBN can be found on the home page. You can check off boxes here to get only hardcover, first edition, or signed copies or to put the books in order by descending instead of ascending prices. The is also an advanced search page that allows you to specify many more search parameters like illustrator, publisher, publication date, or the country it ships from. There are separate search engines for finding stores in a certain area (some of the bookstores you can visit in person) or for searching within a specific store. All searches ran very quickly for me and I was amazed at how hard it was to find a book not currently available somewhere through Biblio's collection of booksellers.
The Matthew Henry Study Bible from Hendrickson Publishers is the first Bible Randy suggested for an out-of-print Bible someone might be looking for. There are currently 21 of them available through Biblio, ranging in price from $47.58 to $482.27 with shipping ranging from free to $3.99.
An EPIC Bottom Line
One of the things we really like about Biblio.com is there forward-thinking and socially responsible EPIC bottom line. EPIC stands for Environment, Profit, Independence, and Community.
Environment – They are the first bookselling marketplace to offer carbon-offsetting on all orders shipped through their site. They partner with Native Energy and purchase investments in alternative energy projects equivalent to their calculated carbon footprint (including the shipping of all the books purchased through them). They also point out that used books are the "green" way to read.
Profit – Profits are necessary to be able to provide secure jobs, comprehensive benefits, charitable donations, and successful reinvestments that help a company grow
Independence – As an independently owned and operated company, they want to help small booksellers survive in this age of big business. I agree with them that it is possible for small companies to exist alongside the big box stores by providing specialization and service that only comes from having a smaller number of products and customers to be familiar with.
Community – Biblio founded Biblioworks.com as a way to balance give and take. This nonprofit has built a dozen libraries in Bolivia as well as assisting with many local book drives, prison book programs, homeless shelters, and tutoring programs.
Book Club and Other Features
Besides offering a centralized search location Biblio makes it possible for readers to enjoy a few of the bonus perks found at larger chains while still supporting small business.
There is the Bibliophiles club. For $19.95 a year you can receive a 10 % discount (maximum of $25.00 per order) on all purchases made through Biblio.com. It will automatically be applied if you are checked in while shopping.
You can also purchase gift cards (currently only available in email format) for all the book lovers in your life.
Most stores that sell through Biblio offer lower shipping rates when purchasing more than one book and generous return policies.
No matter how hard companies try things will occasionally go wrong. Shopping through Biblio gives you a full 30-day money-back guarantee if a book should fail to show up within 7 days of projected arrival date (14 days if it is an international shipment). Biblio provides you with all information necessary to deal with the individual stores directly but also has a customer service department to help you if any communication problems arise.
I know Biblio will be the first place I look next time I want an out-of-print book and I'll be checking them regularly for all the books we post reviews of as well. I'm even planning on going back through some of our older reviews and adding a link to Biblio.com for Bibles and books no longer in production.
Photos are borrowed from the Biblio.com website.
We will probably have a post like this once every 3 to 6 weeks. Money made through our affiliate links makes it possible for us to keep Bible Buying Guide running. We are hoping to make more money here so we can devote more of our time and resources to Bible Buying Guide. That will mean more reviews, more articles besides reviews, and hopefully a better experience on our site as a whole. Our goal is to do that while helping our readers find businesses and products they will be interested in and without overrunning them with ads.